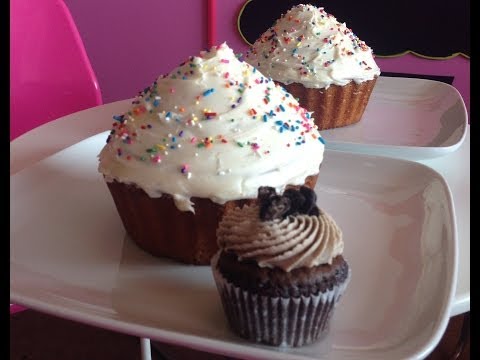 Information on this challenge is via Jamie "The Bear" McDonald's Website. Jamie is a competitive eater and at the time of this article holds the record for this challenge. The challenge itself is confirmed on the Pinky's Facebook page, but very few details were given. A request for more information is being sent to Pinky's
CHALLENGE:
Eat a three-pound cupcake in less time then the current champion (as of this article the time was 2 minutes 20 seconds)2 two foot long hot dogs with fries and drink in 20 Minutes.
LOCATION:
Pinky's Cupcakery
17908 1/2 Magnolia St.,
Fountain Valley, CA 92708
(714) 965-3030
COST:
Unknown a request is in to find the price.
PRIZE:
The cupcake is free and you get your name and picture goes on the "Wall Of Winners".
OTHER:
They require 24 hours notice to take the challenge.
LINKS:
Pinky's Cupcakery Website
Pinky's Cupcakery Facebook Page
To Our Readers
If you have photos or a video of this challenge that you would like to share with our readers please let us know via our Contact Page and we will arrange to have them posted. Or if you would like to be a regular contributor join us via our Restaurant Contribution Form or Contributor Form.