Three pounds of USDA Angus Beef? That's a lot of bull. Not to mention three pounds of french fries.
CHALLENGE:
Eat three pounds of fresh Angus beef patties, which are topped with lettuce, tomato, onions and mayonnaise all on a fresh specially made bun along with three pounds of seasoned french fries in 45 minutes.
LOCATION:
The Bull Shed
2400 Camino Del Rio,
Bakersfield, CA 93308
(661) 634-0720
COST:
$21.95 ($23.95 with cheese)
PRIZE:
Meal is free and you get a Bull Shed T-shirt.
OTHER:
No reservations are required for the challenge. Just walk in and take it. Here is a video of the challenge before it grew up with only a 2.5 pound burger and 2.5 pounds of fries.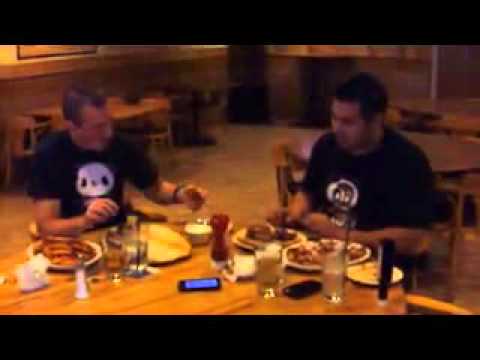 LINKS:
The Bull Shed Website
The Bull Shed Facebook Page
To Our Readers
If you have photos or a video of this challenge that you would like to share with our readers please let us know via our Contact Page and we will arrange to have them posted. Or if you would like to be a regular contributor join us via our Restaurant Contribution Form or Contributor Form.